Ambassador introduction: Nicky, Makaio and Eluney
Sep 18, 2022
Say hello to Nicky, Makaio and Eluney, our new ambassadors!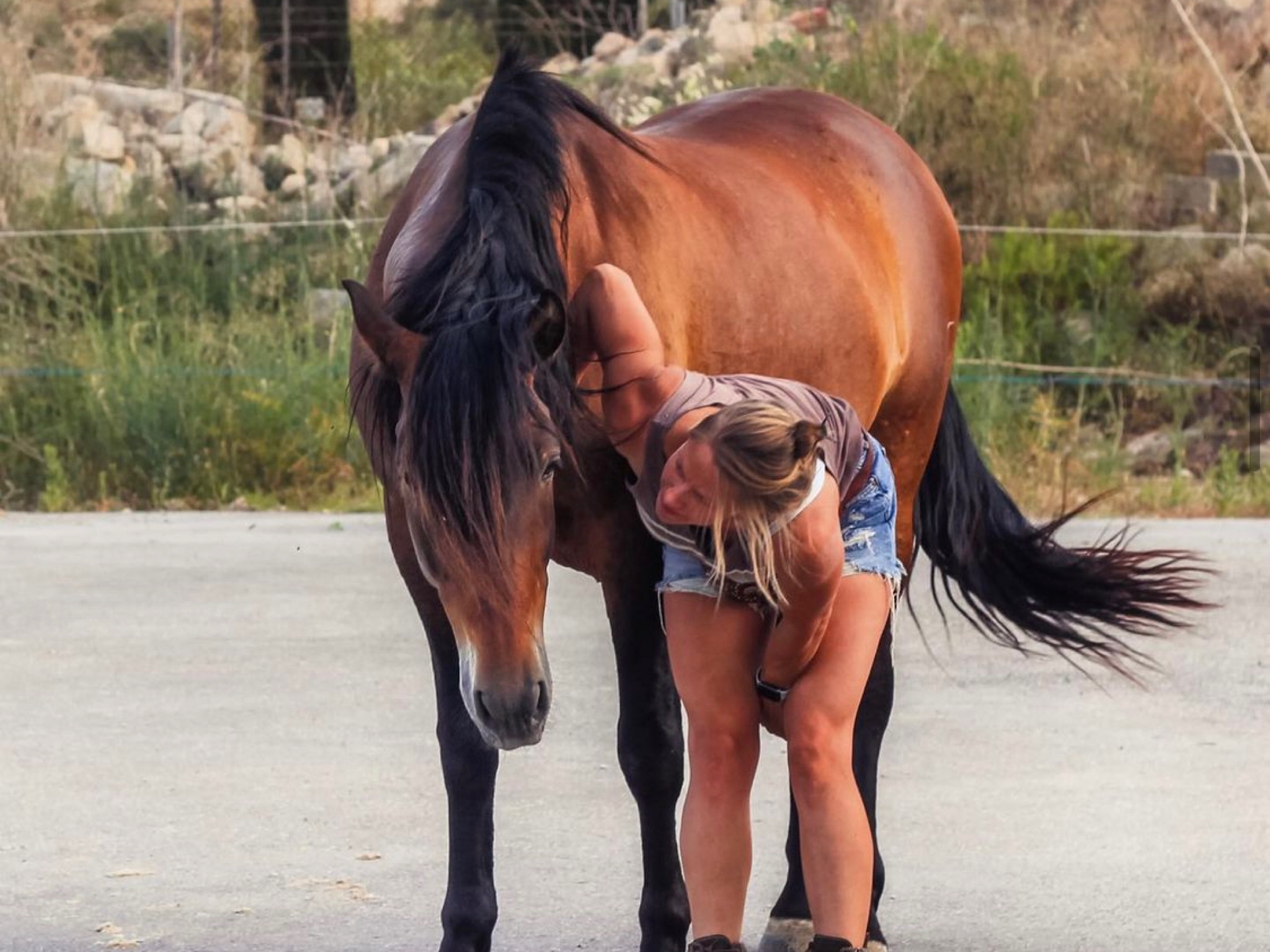 Hi! My name is Nicky, I was born in Holland but moved to sunny Spain in 2016. I don't come from a horsey family, but still my love for horses started at a very young age. I went to riding schools when I was a little girl and a few years after that I had my first pony. I eventually ended up at a western oriented livery yard, where I learned how to ride western style. I really enjoyed it, but looking back at those times - I am sure my pony did not enjoy it at all. She had a tiny stable, a horrible diet and I kept on asking my parents for 'sliding shoes' for her back feet. Luckily they always said "no"…
One day there was a clinic by a well-known trainer. It all looked mighty impressive and I was in awe. That feeling faded though when I went to see her gorgeous palomino in his stable and saw that the horse was not happy and had injuries from being ridden with too much contact and too much leg. It wasn't a lot, but it was enough to make my 12-year-old brain go "wait... is this really the way to go?"
After that came a bit of a turbulent time in my life and I gave up on horses for many years. Still thinking about that moment in the stable, I started to read on the internet about horse behaviour, alternative horse training et cetera. I discovered 'natural horsemanship' and decided that, would I ever have a horse again, I would learn all about that.
Fast forward many years, different horses, different courses, different methods, I have now created my own training style which is based on love, patience, understanding and communication. I spend a lot of time and money learning about horse behaviour, their body language, why they do what they do and so on. What I did not spend time on however, was learning about hooves and nutrition. Back in Holland I had access to a great barefoot trimmer and a great vet, so I never really HAD to learn about these things...
That changed when I moved to Spain. After living without horses for a few years, I just had to have horses in my life again. That's when my current horses Makaio (PRE gelding) and Eluney (PRE stallion) joined me. All was well the first few years, because I found an amazing barefoot trimmer who travelled from France all the way to southern Spain and trimmed many horses on his way back to France. I moved a few months ago from Cadiz to Alicante and even though that trimmer was supposed to still do my horses, I never saw him again. Which meant I had to find someone else and that is when all the drama started.
My horses that were always sound on every surface went lame after the first trim. Especially Makaio was really sensitive for weeks. I had no clue about hooves and what he did wrong, I just noticed they were a lot shorter than usual. Because the sensitivity didn't improve, I called the vet. She said Makaio had mild inflammation on both fronts and gave me a treatment plan. It didn't really help… I decided to give a different farrier a call to ask his opinion. He did a trim and left both my horses lame for weeks. It was so bad, I had to get hoof boots for both to keep them comfortable. By then, everybody recommended me steel shoes. Even though I didn't know much about hooves, I knew that I wanted to keep them barefoot because that worked great before.
After the third farrier (who is also a vet) left Makaio barely being able to walk for two weeks, I decided I had to take matters into my own hands. I realised that I have to learn about hooves and about the effect of nutrition on hoof health. I have to learn to trim them myself, because hiring professionals obviously wasn't working. I also discovered how much info the hooves actually give about the overall health of the horse, so I think all horse owners should learn about this.
My horses already have a 'natural' lifestyle; they live together outside 24/7 in a pasture with different heights and surfaces which I am slowly turning into a paddock paradise. I think that gives me a great foundation to build on and I am sure that with the help of Holistic Hoof Care for Horse Owners I can get my horses sound and happy again. I am very excited to start this journey and to really improve my own knowledge and skills to gives my horses the best life possible!
Would you like to learn more about holistic hoof care? Check out our online courses!
See all courses